At Bartending Services By Mr. Carol, Inc, we pride ourselves in our commitment to helping you celebrate any and all events. During this time, we still want to make ourselves available to provide you with quality bartending services. We are happy to offer a 20% discount on future reservations with
no set date required
. We are currently taking reservations for wedding ceremonies, receptions, fundraisers, corporate events, and more! Please give us a call for more details and information, we look forward to working with you!
In an effort to further assist our community, we are also offering a discount on our services for any fundraiser related to COVID-19. We will gladly work your fundraiser with no service charge, only the cost of the bartenders. Please call for pricing and further information.
Bartending Service in New Hampshire
When your event demands the services of an experienced, professional bartender, call Bartending Services by Mr. Carol, Inc. We've been expertly mixing cocktails for decades, making sure guests at any event are completely satisfied when they visit the bar! We'll work events of all types and sizes, providing the social lubrication to make sure everyone is having a great time.
We're available for any event, from weddings and birthdays, to corporate events and charity fundraisers. We tailor our services around the unique atmosphere of your event.
Our bartending services are versatile! From cash bar to open bar, no matter how many people are in attendance, we work around your needs.
We have more than 35 years of experience and can mix up just about any cocktail you order. See us for 'the usual' and we promise a delicious drink!
Discounts
Don't forget to ask about discounts for active duty military service members and non-profit organizations!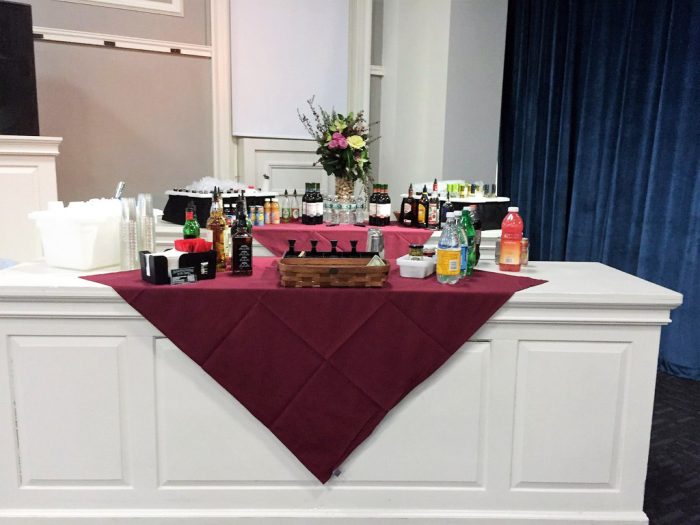 Serving Up Professionally-Mixed Cocktails
If you're celebrating, make sure you're raising a glass! The bartenders at Bartending Services by Mr. Carol, Inc. will put a craft cocktail or glass of bubbly in your hand you're sure to enjoy, making the evening and your celebration that much better. We provide everything you expect from a high-class bartending service in New Hampshire: from a huge selection of popular spirits, to glassware and cups and more. And, with true expert bartenders manning the pours, you're guaranteed a delicious drink each and every time you visit the bar. We'll mix up just about anything, from a classic vodka tonic to a tasty gin martini. Whatever you call 'the usual' is fine by us!
Our bartending services in New Hampshire are available for any event you might be celebrating, whether it's a birthday party, wedding, retirement party, corporate event or charity fundraiser. Whatever it is you're celebrating, we'll be ready to tailor our bar packages around the logistics and budget of your event—from cash bar to open bar, no matter how many people are in attendance. We'll even take the time to set up our stations in accordance with your venue—we've worked some of the most popular venues in the area and know our way around well! if you're planning an event, be sure to give us a call and make sure your bar needs are met, fully and completely.
Have a Drink on Us
Make sure your guests have a drink in-hand and a smile on their face at your next event. Contact us today to hire professional bartenders, guaranteed to serve up great-tasting cocktails.
We're licensed with the New Hampshire State Liquor Commission and are TIPS Certified.
For your next event, Bartending Services By Mr. Carol, Inc. is the way to go! Proudly located in New Hampshire and serving the state of New Hampshire, Including:
Hudson NH
Nashua NH
Contoocook River NH
Temple NH
Milford NH
Manchester NH
Bedford NH
Kingston NH
Salem NH
Coos County NH
Grafton County NH
Sullivan County NH
Cheshire County NH
Rockingham County NH
Merrimack County NH
Strafford County NH
Belknap County NH
Carroll County NH